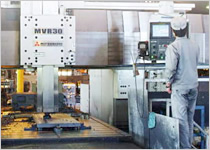 Ochi Machinery has constructed a high-dimensional production system by introducing the most up-to-date machine tools such as the machining center and NC lathe. We carry out machine processing in a wide range of areas such as the manufacture of machined parts for general industrial machinery, construction machinery and agricultural machinery, and the drilling, cutting and gear shaping of cast products. A reduction in the time and effort required for NC programming is made possible by inputting data into the simulation software based on final production data using 3D CAD/CAM and carrying out cutting simulation under the supervision of an experienced engineer. This also enables significant reduction in time for machine interference checks.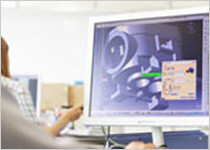 High precision molds are required to make high quality cast products. Ochi Machinery's mold division manufactures aluminum outer molds, shell molds and resin molds for casting. We can provide high precision, low cost cast molds by using CAD/CAM from 3D data. . Our steel fabrication division manufactures steel fabrication products such as industrial machinery, construction machinery, and material handling equipment; products from a few kilograms to five tons; and can provide processing by large machine tools, and final assembled products.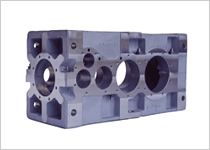 Ochi Machinery manufactures and supplies a diverse range of products extending across a number of areas that includes our mainstays of assorted reduction gears, transmission cases, crankcases, and swing bearings for tractor parts and hydraulic products. As part of our customer-first policy, we also handle prototypes and small lots.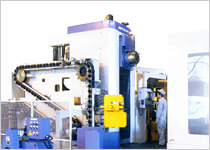 Ochi Machinery is actively moving forward with the expansion of production facilities, such as an advanced computercontrolled production system, in order to supply high precision high quality products that earn the trust and confidence of users as well as achieve fast production and low costs.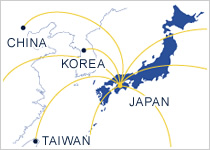 Ochi Machinery has business relationships with major manufacturers of heavy machinery, electrical and construction equipment, and other machine manufacturers all over Japan and is currently expanding its business network to places like China, South Korea and Taiwan as suppliers of materials in order to meet user needs. We value and respect the partnerships we have with both our users and suppliers.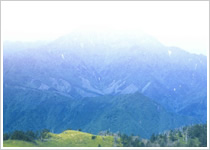 Environmental protection is currently a serious issue on a global scale. We at Ochi Machinery consider the well being of the environment in all our business undertakings and we wish contribute to the local community and the global environment. That is our responsibility and is what we work towards as a good corporate citizen. We do our utmost to make improvements on a continuous basis, preventing pollution and protecting the environment with a Mottainai (Don't be wasteful!) theme, and try to put into practice the 4Rs of reduce, reuse, recycle and repair.
※ picking up the, ISO14001 ISO9001 in October 2007